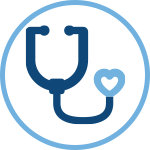 Annual Physicals
For people in good health, the annual physical is essential to continued wellness, providing an opportunity to catch small problems before they become major. Dr. Anjan Patel and the team at Medical Solution Center in Boca Raton, Florida, are proud to offer patient-first primary care, and a complete physical is the perfect place to start. If you're searching for a primary care physician, or if it's that time of year again, give Medical Solution Center a call today to book an appointment for your physical.
561-994-7368 Request An Appointment
What is the purpose of an annual physical?
Typically, any visit to the doctor includes a short physical exam. As well as the patient's symptom complaint, the quick exam gives our providers an overall picture of the patient's current health. An annual physical expands upon this and gives a deeper and more thorough picture.
The depth of the examination is not the only difference. The annual physical presents an opportunity for our doctors to address wellness, to be proactive with a patient's health, rather than treating a current illness. It's an excellent time for discussions about potential health risks and the lifestyle changes that may help bypass more serious conditions in the future.
Patients who are managing a chronic illness can use annual physicals as health care strategy sessions to maximize future care.
What tests and checks are typical for an annual physical?
With such a wide-ranging purpose, it's perhaps surprising that there's no set procedure for an annual exam. While there are steps common to most physicals, there's also a wide range of discretionary checks as well. This is another reason why choosing Medical Solution Center assures the best care. With the established relationship between patient and primary caregiver, it's easier to focus examinations on conditions most likely to affect the patient, based on knowledge and history. Changes may be more apparent to him than if you're having a physical done by a doctor who is unfamiliar with you.
Typical checks and procedures common to many annual physicals include reviewing your history, including any lifestyle changes since the last visit.
Vital signs, including temperature, body weight, height, respiration rate, heart rate, and blood pressure, establish general health overall while providing clues about illness.
Our physicians gather most information about your health simply by observing and talking to you during the appointment. Your heart, lungs, and abdomen are checked through external tapping, palpating, and with a stethoscope. Reflexes, skin, arms, and legs are checked for function and changes.
Are blood and urine tests part of the physical?
Yes. Blood and urine tests are crucial to getting a full picture of your health beyond what's observable in an office visit. Medical Solution Center does much of the standard lab work in their office, providing quicker access to lab test results.